/// N E W S ///



---
Excited to have my work included in Making Our Mark at the Richmond Art Center, celebrating its 80th Anniversary Year.
---
I am teaching a weaving workshop at the Museum of Craft and Design on Saturday June 18 2 - 5pm as part of the Lines that Tie exhibition. Sign up here!
---
My work is included in the exhbition Lines that Tie at the Museum of Craft and Design in San Francisco.
April 9 - August 7, 2016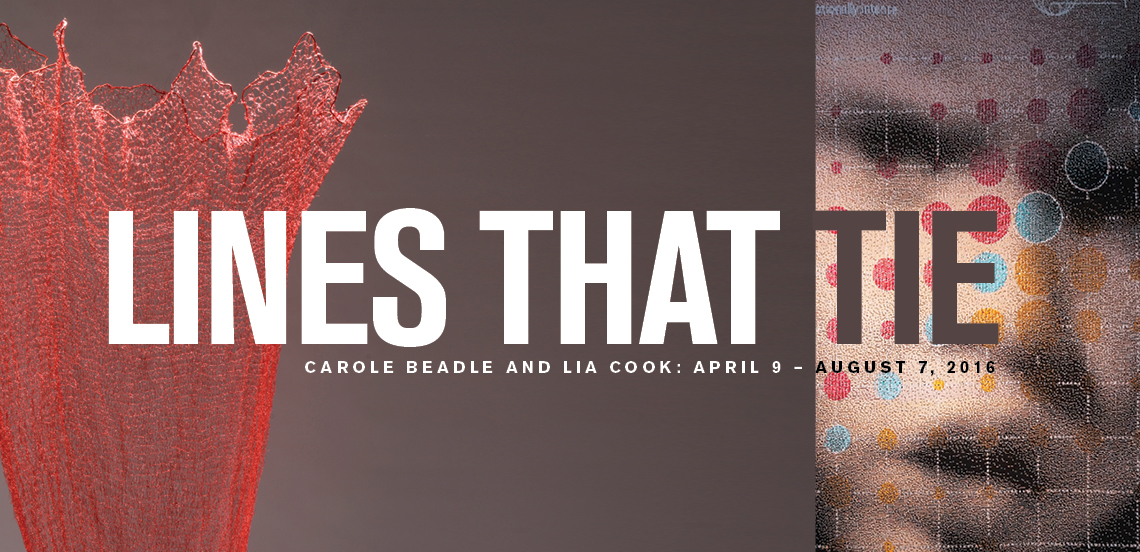 ---
One of my animations is showing at the Peephole Cinema January 2 - February 14, 2016 in the exhibition AMONG ECHOES with artists Felipe Castelblanco and Victoria Scott.


---

I will be spending the day at Eastern Michigan University on October 28, 2015 to visit with grads and give a talk. Lecture begins at 4pm.
---
Upcoming solo exhibition: Stop Over at Jack Fischer Gallery October 24 - December 5, 2015
Artist Reception: Saturday, October 24, 4 - 6pm

---

I will be included in the exhibition fiberSHED at the Marin Community Foundation, featuring 24 Bay Area fiber artists. Opening is October 7, 2015, 4:30pm.


---

This February I was resident artist at CCA's Textiles Department as part of the Lia Cook Residency. I will be giving a talk this Tuesday, 2/18/14, at 3pm.

---
Excited to be included in THE WHEELHOUSE, a screening of short animations at devening projects + editions in Chicago, IL with artists Leslie Baum, Frederick Wells, Amy Sillman, Allison Schulnik, Melissa Oresky, and Zak Boerger. November 17th, 4 - 7PM.


---
I have a piece up at the Contemporary Austin, as part of their LIFT PROJECTS. July 14 - Sept 1.


---

Ashley Stull wrote a thoughtful profile on my work in SFAQ.


---
A nice write up about my work in Beautiful Decay!


---
I have a few pieces in Punch Card II
Arena1 Gallery
Santa Monica, CA
March 30 - April 27, 2013
More informaiton at Arena1
---
Thrilled to announce that I am represented by Jack Fischer Gallery! Looking forward to a solo show in 2014.
---
Review of Remembering is Everything: Art Practical





Review of Remembering is Everything in the SF Bay Guardian:
For logistical and practical reasons, it's fairly uncommon to hear of curators commissioning works for a gallery show, but the results can be intoxicating, as with "Remembering is Everything" at Alter Space. Bean Gilsdorf and A. Will Brown got six artists to contribute a work based on his or her own remembering of the same original video, which was destroyed after viewing. Befitting the premise, the works in the show contribute to a general field of reverberating feedback, each one in this context providing you incomplete points of view on an unknown experience.

Themes of recursion, repetition, and fugue recur, as in Stephen Slappe and Kate Nartker's looped video works that both posit unresolved narrative chords, and Nancy Nowacek's performance Circuit (As I Caught), in which mysterious packages filled with objects recalled from the video appear at the gallery each day of the exhibition. The effect is like an enacted Haruki Murakami dream sequence, and you're immediately drawn into the activity of fabricating and assembling the show's affects and objects into a kind of tenuous, vague, and poignant gestalt.
---
Upcoming Show: Remembering is Everything
Alter Space, San Francisco
Curated by Bean Gilsdorf and A. Will Brown
Exhibition Dates: January 17 - February 23, 2013
OPENING RECEPTION: January 18, 7 - 10pm
---
Juror's Choice Award
Scott Lawrimore, the juror for Punch Gallery's Juried Exhibition, selected my piece, Line by Line as Juror's Choice!
---
Miami Project Art Fair: December 4 - 9, 2012
NE 1st Ave & NE 29th Street, Miami, FL
I will have new work shown by Jack Fischer Gallery, in booth #819.
---
Press: Surface Design Journal
I am honored to be featured in the Fall 2012 Surface Design Journal ::
---
Upcoming show: Punch Gallery International Juried Exhibition
Seattle, WA
Exhibition Dates: November 1 - December 15, 2012
OPENING RECEPTION: Thursday, November 1
Juror: Scott Lawrimore
---

Upcoming show: Introductions
Root Division
Exhibition Dates: September 6 - 29, 2012
OPENING RECEPTION: Saturday, September 8, 2012
Juried show curated by: Sergio De La Torre, Valerie Imus, and Kimberly Johansson
---
Featured in Composite Arts Magazine
I was asked to contribute an article to Composite's Summer 2012 issue, Aberration. It was released today, June 25, 2012, and is available online. You can read directly on their site or download a pdf.


---
Upcoming show: re:Told
Root Division
Exhibition Dates: July 11 - 28, 2012
OPENING RECEPTION: Saturday, July 14, 7 -10 pm
---
Review on Art Practical
Artist / writer Mike Rothfeld wrote a shotgun review about my piece at the San Jose Instititue of Contemporary Art!
---

Review of CCA MFA Show on KQED Arts.
There is a great review of the 2012 CCA MFA Show. I am featured as one of the highlights, along with artists William Emmert, Katelyn Eichwald, Cara Levine, Kate Bonner, and Liam Everett.


---
Interview on studentsthatmake.com
I was just interviewed on this new site started by artist Cole Bentz.
---
4x4
San Jose Insititute of Contemporary Art
Exhibition Dates: March 3 - June 2, 2012
OPENING RECEPTION: Friday, March 9, 6-8 pm
This is four month exhibition that features four stop-motion animations. My work will be shown with Sarah Klein, Vanessa Woods, and Ezra Wube.
---
MFA Now Juried Exhibition and Archive Project

Root Division

Exhibition Dates: February 8 - 25, 2012

OPENING RECEPTION & ARCHIVE RELEASE PARTY: Saturday, February 11, 7-10 pm
---
Hordaland Kunstsenter 2011 Retrospective Catalogue

I am featured in an article by Glenn Adamson about the Shot Through Exhibition.

Full pdf here, article starts on page 64.
---

Hordaland Art Centre

Exhibition Dates: October 28 - December 18, 2011

So excited to be included in this show with artists Chuck Close, Johanna Friedman, Lia Cook, Kari Dyrdal,

Sabrina Gschwandtner, and Karina Presttun




---

Proof: Juried Exhibition of work by Northern California Artists

Juror Denise Markonish, Curator at Mass MoCa

Southern Exposure

Exhibition Dates: September 16 - October 8, 2011
---
Frontrunners: The San Francisco Foundation 2011 Muphy & Cadogan Fellowship Awards Exhibition
SOMArts
Exhibition Dates: August 17 - September 16, 2011